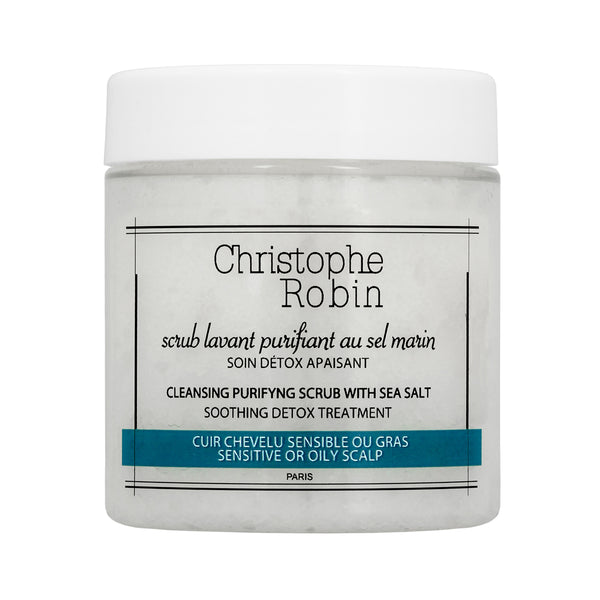 Cleansing Purifying Scrub With Sea Salt
Christophe Robin
or make 4 interest-free payments of $11.75 AUD fortnightly with
More info
This is a purifying, cleansing, moisturising and soothing shampoo, it is ideal as a detox treatment for the scalp and roots. Perfect for after colour treatment as it calms itchiness and removes chemical residue. Contains sea salt, a natural exfoliant which eliminates impurities and stimulates circulation to the scalp.
Can be used once or when ever you feel you think your hair needs a detox from environmental build up.
Is also perfect for men and women with a sensitive or oily scalp.
Directions: Apply a tablespoon of salt scrub on damp hair, gently massage into the scalp adding a small amount of water, then lather. After thoroughly rinsing, use a nourishing treatment Volumizing Conditioner with Rose Extracts through the lengths and ends to nourish your hair.
Paraben, silicone and colourant free.
About 20 applications
250 ml
Returns Policy
We will exchange a product if it is returned to us within 10 days of being received by you, unopened and unused, with original packaging and labels, however, only if you notify us of your decision to exchange the product within 2 days of it being received by you.
We do charge a 20% restocking fee. We do not give a refund for a product if you simply change your mind or make a wrong decision. We will give you a refund if a product is damaged or faulty, does not match its sample or description, or does not do what it is supposed to do, or if we are otherwise required to do so by law.
Shipping
For National and International rates please see Shipping Page
All methods of shipping provide for tracking. We do not accept Post Office Box numbers.
The products displayed on the Site are subject to availability and may change from time to time. Supply problems and unexpected demand may result in certain products being unavailable or the shipment of such products being delayed and, accordingly, the above shipping times set out at www.auspost.com.au are estimates only.
We will not be responsible or liable for delayed shipping under any circumstances