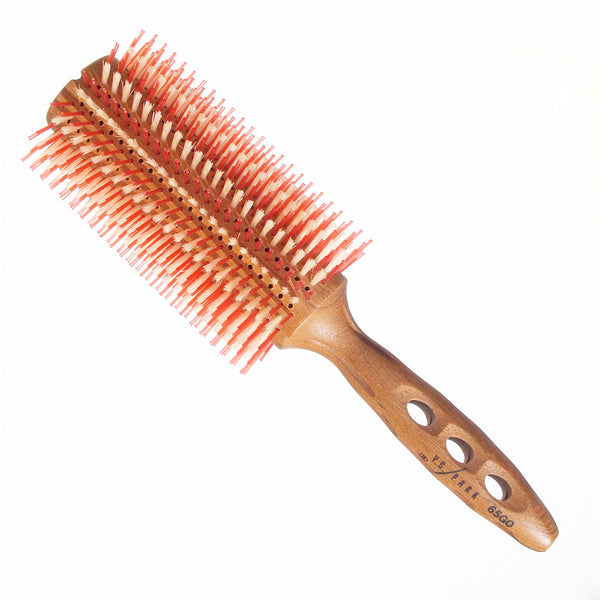 Y.S. Park Curl Shine Styler Brush 65G0 (Extra Large)
Y.S. Park
Y.S. Park brushes are created by hairdressers for hairdressers and lead the way with their innovative design and engineering.  "The Curl Shine Styler Brush is Y.S. Park's most famous brush to date. The combination of pure bristles and polymide pins helps you create incredible curls with a high finish - I am never without one!" Alan White
or make 4 interest-free payments of $38.50 AUD fortnightly with
More info
The Curl Shine Styler Brush from Y.S. Park is the height of luxe with its lightweight teak wood handle, lush boar bristles and heat resistant polymide pins. Sized for all your blowdrying needs. Faster drying means less heat damage. Designed so that the pins smoothly grab and straighten the hair, while the short bristles create gleaming curls with a high finish.
- Dimensions: Pin Diameter 65mm, Boar diameter 58mm, Curl diameter 140mm
- Mixed Boar and Nylon Bristles
 IMPORTANT CARE INFORMATION:
- Always leave 5cm clearance between the dryer nozzle and your brush to allow for hot air to move through and around the brush for effective drying without heat damage to the hair or brush. Failure to do this will cause the natural boar bristles to burn, resulting in a damaged brush.
- Do not immerse or soak this brush in any liquid, as it may cause the natural wood to crack.

All sales are FINAL unless there is a manufacturer defect. Please make sure you are picking the correct item and read the descriptions and care information in full to understand the functionality and size of each item.     


If you have any questions about a product prior to your order or if a defect is present once you receive your order please contact accounts@alanwhite-anthology.com
Returns Policy
We will exchange a product if it is returned to us within 10 days of being received by you, unopened and unused, with original packaging and labels, however, only if you notify us of your decision to exchange the product within 2 days of it being received by you.
We do charge a 20% restocking fee. We do not give a refund for a product if you simply change your mind or make a wrong decision. We will give you a refund if a product is damaged or faulty, does not match its sample or description, or does not do what it is supposed to do, or if we are otherwise required to do so by law.
Shipping
For National and International rates please see Shipping Page
All methods of shipping provide for tracking. We do not accept Post Office Box numbers.
The products displayed on the Site are subject to availability and may change from time to time. Supply problems and unexpected demand may result in certain products being unavailable or the shipment of such products being delayed and, accordingly, the above shipping times set out at www.auspost.com.au are estimates only.
We will not be responsible or liable for delayed shipping under any circumstances