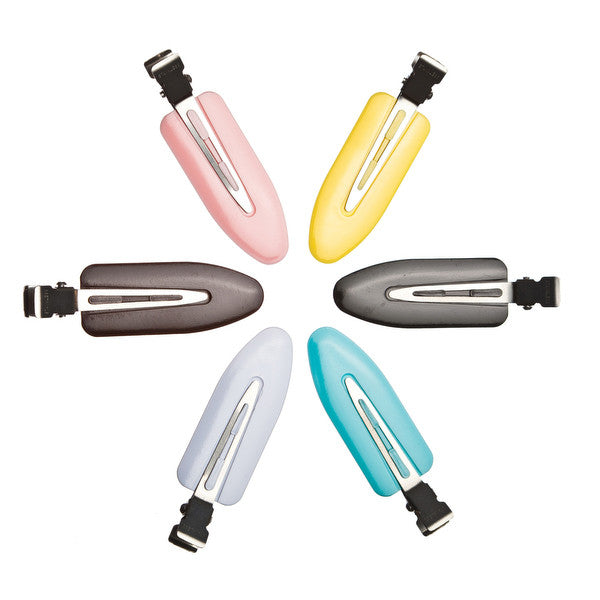 Super Single Curl Clip Pins
555
Super Single Curl Clip Pins in an assorted colour pack of 24. The ideal setting clip, giving a secure hold and leaving no imprint. Incredible for finger waving and creating shapes around the face... or for simply holding the hair off the face during makeup application!
or make 4 interest-free payments of $12.50 AUD fortnightly with
More info
An absolute must-have in your freelance kit or salon. The Super Single Curl Clip Pins are one of Alan's favourite finds and are in his kit being used 24/7 -  from studios to runways he's never without them!
Each pack of 24 contains 6 colour ways, black, brown, pink, blue, yellow and white.
Returns Policy
We will exchange a product if it is returned to us within 10 days of being received by you, unopened and unused, with original packaging and labels, however, only if you notify us of your decision to exchange the product within 2 days of it being received by you.
We do charge a 20% restocking fee. We do not give a refund for a product if you simply change your mind or make a wrong decision. We will give you a refund if a product is damaged or faulty, does not match its sample or description, or does not do what it is supposed to do, or if we are otherwise required to do so by law.
Shipping
For National and International rates please see Shipping Page
All methods of shipping provide for tracking. We do not accept Post Office Box numbers.
The products displayed on the Site are subject to availability and may change from time to time. Supply problems and unexpected demand may result in certain products being unavailable or the shipment of such products being delayed and, accordingly, the above shipping times set out at www.auspost.com.au are estimates only.
We will not be responsible or liable for delayed shipping under any circumstances