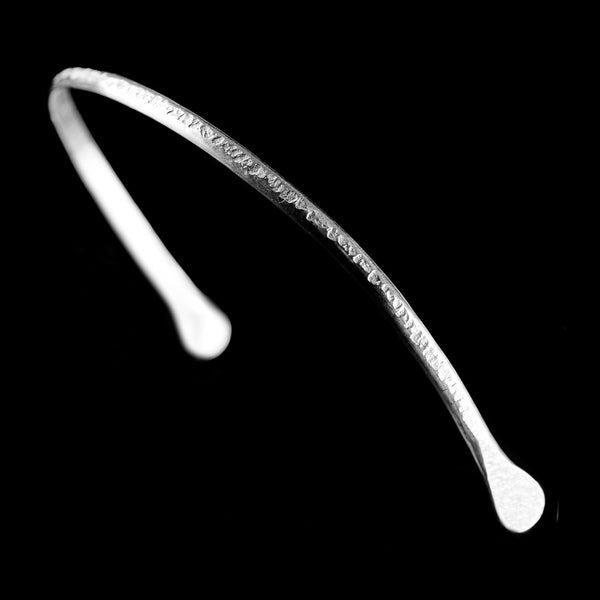 Definitive Collection Reverse Head Band
Alan White Anthology
Custom made in pure Silver, the Definitive Collection's Reverse Head Band adds a modern twist to any style from long and loose, to more intricate up-styles.
Designed for the Bec & Bridge Luna 2015 Collection, the Definitive Collection's Reverse Head Band can be used two ways... functionally to tame hair, or creatively to make your hair style really pop. Our Silver Reverse Head Band from the Definitive Collection is inspired by textures both on and off the runway; think Gucci meets Game of thrones, as it exudes luxury yet has a hint of edgy beach urban attitude.
All pieces from the Definitive Collection are handmade in solid Sterling Silver and hallmarked, please allow 2 to 3 weeks for your selected piece to be made and delivered.
Returns Policy
We will exchange a product if it is returned to us within 10 days of being received by you, unopened and unused, with original packaging and labels, however, only if you notify us of your decision to exchange the product within 2 days of it being received by you.
We do charge a 20% restocking fee. We do not give a refund for a product if you simply change your mind or make a wrong decision. We will give you a refund if a product is damaged or faulty, does not match its sample or description, or does not do what it is supposed to do, or if we are otherwise required to do so by law.
Shipping
For National and International rates please see Shipping Page
All methods of shipping provide for tracking. We do not accept Post Office Box numbers.
The products displayed on the Site are subject to availability and may change from time to time. Supply problems and unexpected demand may result in certain products being unavailable or the shipment of such products being delayed and, accordingly, the above shipping times set out at www.auspost.com.au are estimates only.
We will not be responsible or liable for delayed shipping under any circumstances